Fountain Valley Tree Lopping
Top of the Line Tree Lopping Services in Fountain Valley, CA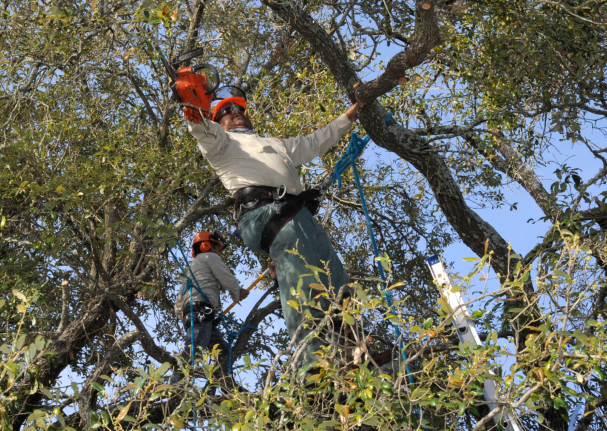 If you're in need of a tree lopping service in Orange County, give the folks at Fountain Valley Tree Service a call. We do exemplary work at reasonable prices. With Fountain Valley Tree Service your softscape is in good hands.
Dial (714) 844-5277 to get free estimates.
Tree Lopping Basics
So what exactly do we mean by tree lopping?
Tree lopping is the careful cutting of trees to remove certain parts, typically branches. It's a bit like giving your tree a haircut. Lopping is done to make the tree look prettier or shorter (or both).
For instance, if a sycamore tree has grown too tall for its surroundings, we can shorten the trunk to make things safer not only for that tree but for passers-by on the street. Lopping can also be done on dead or weak branches so stronger limbs can replace them.
Why Get Your Trees Lopped?
There are many reasons why you might want to get your trees lopped. Maybe some branches are dead and need to be removed. Maybe they're obstructing a view. Maybe they're causing damage to your home or other property. Or maybe they're just too big and need to be trimmed down for aesthetic reasons.
Whatever your reason for wanting tree lopping, the experts at Fountain Valley Tree Service are here to help you out. We have the experience and expertise to handle any tree lopping job, no matter how big or small.
How We Do Tree Lopping
We use specialized climbing equipment to reach the branches that need to be removed or altered; this happens most often in urban areas. Before deciding which branches should be cut, we will conduct a thorough examination of the tree and its surroundings.
Following that, a chainsaw or other tool will be used to chop the branches, with care being taken not to harm the tree or any other trees nearby. In some situations, we'll rope down the limbs.
After the tree cutting, we will often do a light trim on the remaining branches. This can aid in the healing of the plant and make it appear neat and tidy.
Is Tree Lopping Really Important?
While tree lopping might seem like a cosmetic procedure, it actually serves an important purpose. Lopping can help to:
Remove dangerous branches that could fall on people or property

Improve the look of your trees

Encourage new growth

Help your trees to better withstand strong winds
Fountain Valley Tree Service is here to help you with all your tree lopping needs. Give us a call today to get free estimates. We'll be happy to answer any questions you have.
Professionalism Par Excellence
Fountain Valley Tree Service is a fully licensed and insured tree service company. We're also proud members of the International Society of Arboriculture (ISA). This means we have the experience, expertise, and commitment to excellence that you need when it comes to your trees.
We care about every specimen that lives in Orange County. This means we will work to ensure the health and beauty of your trees for years to come.
If you're in need of a tree lopping service, don't hesitate to give us a call today at (714) 844-5277. We'll be more than happy to provide you with a free, no-obligation quote.